---
You find now a dU compilation from YouTube Videos which contains dU Stuff.
Some from dU players, others are made only for fun. Its a large collection.

You can see them now all together with (I think) a good interface.
If you find some others, please post the YouTube tink at "dU Videos". There is a button for that!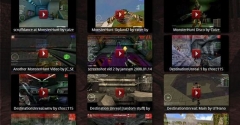 Link for the dU Videos is at the left block side. ( dU Video )

In the time where I have code the interface and searched at YouTube for dU Movies, I got sometimes wet eyes. Because in the last 10 years it happend so much. Good and bad ... [Read more]
---
Posted by BlackWolf April 30, 2016 Comments [3]